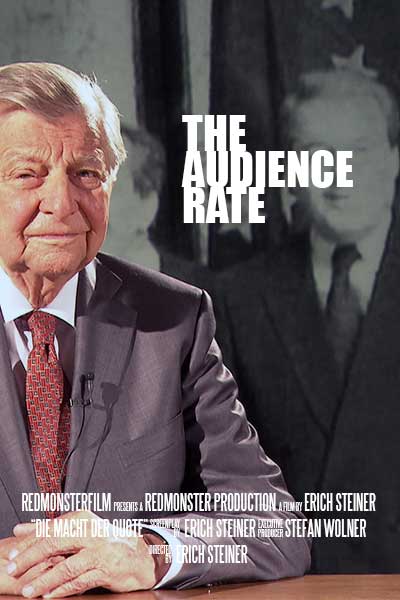 [:en]The Audience Rate[:de]Die Macht der Quote[:]
[:en]Deutscher Titel: Die Macht der Quote
A, 2016, HD, 45 Min, ORF3
---
SYNOPSIS
Program success on television is not least defined by numbers. But how exactly are these numbers measured? Who are those whose television behavior is recorded by the Teletest? And what power do they have over the program we see every day? The documentary follows the trail of the "Quote" and also shows the challenges of new developments such as the online TV.
---
CREDITS
Written & Directed by Erich Steiner
Edited by Red Monster
DOP: Andreas Daxer
Soundmix by Emanoel Bruckmüller
Voice: Angelika Lang
Produced by Stefan Wolner
Red Monster in Coproduction with ORF III
(austrian broadcasting corporation)
Released: 19.10.15, ORF III, Themenmontag[:de]ein Erich Steiner Film
AT 2015 | TV-Dokumentation | ORF III
45 Minuten
–
Synopsis
Programmerfolg im Fernsehen definiert sich nicht zuletzt über Zahlen: wie viel Publikum zu welcher Zeit ein Programm gesehen hat. Danach richten sich Programmentscheidungen, Werbetarife und andere wichtige Parameter in der Fernsehwelt.Doch wie genau werden diese Zahlen gemessen? Wer sind diejenigen, deren Fernsehverhalten vom Teletest erfasst und danach auf die österreichische Gesamtseherschaft hochgerechnet wird? Und welche Macht haben sie über das Programm, das wir täglich sehen? Die Dokumentation begibt sich auf die Spur der "Quote" und zeigt auch, welche Herausforderungen neue Entwicklungen wie die online-TVtheken bei der Messung von Fernsehverhalten mit sich bringen.
–
Credits
Regie: Erich Steiner
Kamera: Andreas Daxer
Schnitt: Red Monster
Sprecherin: Angelika Lang
Tonmischung: Emanoel Bruckmüller
Produktionsleitung: Stefan Wolner
Redaktion: Livia Gruber (ORF III)
Sendungsverantwortlicher: Otto Schwarz (ORF III)
Produktion: Eva Schindlauer (ORF III)
Gesamtleitung: Peter Schöber (ORF III)
Produzent: Stefan Wolner
Ausgestrahlt:
Montag, 19.10.2015, 20.15 Uhr
Wh. Di 00.55 und 14.40 Uhr[:]