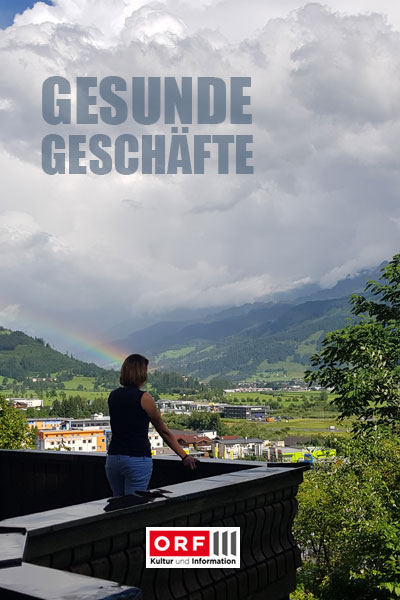 [:en] Healthy Business[:de]Gesunde Geschäfte[:]
[:en]a Stefan Wolner & Elisabeth Tschachler Film
AT 2017 | TV-Documentary | ORF III
45 minutes
–
Synopsis
For some health fanatics, staying fit has reached a level of craziness that is actually counterproductive: excessive diets and workouts exhaust the body. This increases susceptibility to sicknesses, which can have fatal consequences.
Orthorexia is one of those new phenomena: People who consider even the freshest, most organic lettuce leaf not healthy enough for their standards. They cannot find anything to eat and their health deteriorates – despite and because of their healthy ambitions. The documentary shows the excesses associated with various health ideologies and reveals the business models that profit from the recent developments.
–
Credits
Director: Stefan Wolner, Elisabeth Tschachler
DOP: Valentin Platzgummer, Caroline Bobek, Gregor Centner, Christian Roth, Michael Gartner
Sound: Michael Hensel, Martin Stiendl, Armin Koch, Nino Pfaffenbichler, Miodreag Mijatovic
Editor: Angela Scholz
Speaker: Angelika Lang
Sound Mixing: Soundfeiler
Production Manager: Miriam Frerk
Editorial Office: Livia Gruber (ORF III)
Program Manager: Otto Schwarz (ORF III)
Production: Eva Schindlauer (ORF III)
Overall Manager: Peter Schöber (ORF III)
Producer: Kurt Langbein[:de]ein Stefan Wolner & Elisabeth Tschachler Film
AT 2017 | TV-Dokumentation | ORF III
45 Minuten
–
Synopsis
Gesundheit hat sich für manche Menschen zu einem Wahn gesteigert, der letzten Endes genau zum Gegenteil führt: zur Auslaugung des Körpers, der anfällig für Erkrankungen wird, immer wieder auch mit tödlichem Ausgang.
Orthorexie heißt eines dieser neuen Phänomene: Menschen, denen auch noch das Bio-Salatblatt zu unwürdig für ihre Maßstäbe erscheint. Sie finden kaum noch etwas zu essen und verelenden – das alles bei hehrsten Zielen. Die Dokumentation stellt die Auswüchse verschiedener Selbstoptimierungsideologien dar und zeigt, dass auch dahinter letzten Endes so manches Geschäftsmodell steht.
–
Credits
Regie: Stefan Wolner, Elisabeth Tschachler
Kamera: Valentin Platzgummer, Caroline Bobek, Gregor Centner, Christian Roth, Michael Gartner
Ton: Michael Hensel, Martin Stiendl, Armin Koch, Nino Pfaffenbichler, Miodreag Mijatovic
Schnitt: Angela Scholz
Sprecherin: Angelika Lang
Tonmischung: Soundfeiler
Produktionsleitung: Miriam Frerk
Redaktion: Livia Gruber (ORF III)
Sendungsverantwortlicher: Otto Schwarz (ORF III)
Produktion: Eva Schindlauer (ORF III)
Gesamtleitung: Peter Schöber (ORF III)
Produzent: Kurt Langbein[:]