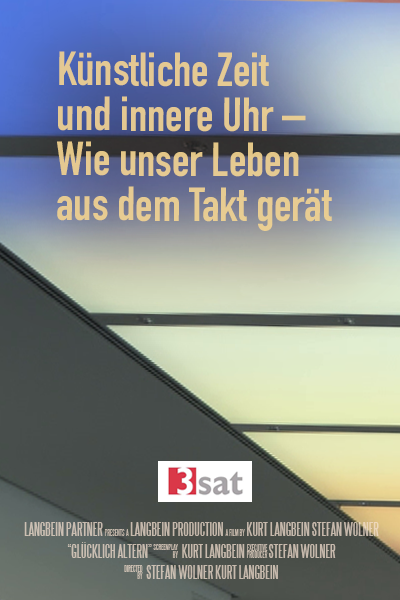 [:en]Artificial Time and Inner Clock – How our Life Gets out of Step[:de] Künstliche Zeit und innere Uhr – Wie unser Leben aus dem Takt gerät[:]
[:en]a Stefan Wolner and Elisabeth Tschachler Film
TV Documentary | Austria | 2015
51 minutes
–
Synopsis
Despite being looked down upon by traditional scientists, over the last years chronobiology has provided numerous new approaches to unexplained phenomena around human life – such as sicknesses. Light and rhythm shape our life. But not only ours: cabbage, for example, that is being stored in the dark contains significantly fewer nutrients than cabbage that is subjected to a circadian rhythm.
In our brains our "inner clocks" are directing our bodies' various biorhythms, which also occur in every single cell. Light is merely an outer timer for this clock. These clocks tick at their own individual speed and differently in each organ and each phase of our lives – when this is disregarded it is at the detriment of our well-being, performance and health.
–
Credits
Director: Kurt Langbein, Stefan Wolner | DOP: Christian Roth | Sound: Jonathan Andel, Michael Hensel, Martin Kerschbaumer | Editor: Alexandra Wedenig | Speaker: Stefan Fleming, Valentin Schreyer | Production Manager: Brigitte Ortner, Rosemarie Prasek (3sat) | Editorial Office ORF 3sat: Petra Gruber | Overall Manager ORF 3sat: Reinhard Scolik | Scientific Advisor: Maximilian Moser, Med Uni Graz, humanresearch.at | Producer: Kurt Langbein
A coproduction by Langbein & Partner with ORF 3sat and BMBF
Supported by TV Funds Austria and VAM[:de]Ein Film von Kurt Langbein & Stefan Wolner
TV Dokumentation | Österreich | 2015
51 Minuten
–
Synopsis
Lange Zeit von der traditionellen Wissenschaft belächelt, bietet die Chronobiologie in den letzten Jahren neue Ansätze zum Verständnis vieler bislang unerklärten Phänomene rund um das menschliche Leben – wie auch Krankheiten. Licht und Rhythmus gestalten unser Leben. Aber nicht nur unseres: Kohl etwa, der im Dunklen gelagert wird, enthält wesentlich weniger wertvolle Inhaltsstoffe als Kohl, der dem Tag-Nachrhythmus ausgesetzt ist.
Von unserem Gehirn aus steuern die "Inneren Uhren" die vielfältigen Biorhythmen des Körpers, die auch in jeder Zelle ablaufen. Licht ist nur ein äußerer Zeitgeber dieser Uhr. Aber diese Uhren ticken individuell und in jedem Organ, aber auch in den einzelnen Lebensphasen unterschiedlich – wird das missachtet, leiden Wohlbefinden, Leistungsfähigkeit und Gesundheit.
–
Credits
Regie: Kurt Langbein, Stefan Wolner | Kamera: Christian Roth | Ton: Jonathan Andel, Michael Hensel, Martin Kerschbaumer | Schnitt: Alexandra Wedenig | Sprecher: Stefan Fleming, Valentin Schreyer | Produktionsleitung: Brigitte Ortner, Rosemarie Prasek (3sat) | Redaktion ORF 3sat: Petra Gruber | Gesamtleitung ORF 3sat: Reinhard Scolik | Wissenschaftliche Beratung: Maximilian Moser, Med Uni Graz, humanresearch.at | Produzent: Kurt Langbein
Eine Koproduktion von Langbein & Partner mit ORF 3sat und BMBF
Gefördert von Fernsehfonds Austria und VAM[:]