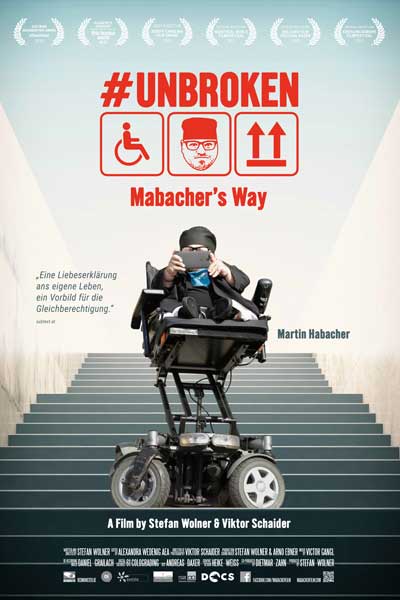 [:en]#UNBROKEN – Mabacher's Way[:de]Mabacher – #ungebrochen[:]
[:en]a film by Stefan Wolner und Viktor Schaider
AT 2017 / Documentary
80 minutes
---
Synopsis
Martin Habacher was born with brittle bone disease – yet his physical fragility ultimately made him a stronger personality than one might expect at first glance. Today, the smallest YouTuber in Austria vehemently and humorously advocates tolerance and breaks down barriers – in everyday life and in our minds.
---
Festivals & Preise
1st PRICE – We Care Film Fest, 2018
AUSTRIAN DOCUMENTARY AWARD, 2018
AUDIENCE AWARD – this human world, 2017
DIRECTOR'S AWARD – North Carolina Film Award, 2018
Bozen Filmfestival, 2018
Sebastopol Filmfestival, 2018
Montreal World Filmfestival, 2017
Crossing Europe, 2017
Trujillo International Independent Film Festival, 2017
---
Credits
Written & Directed by Stefan Wolner
Cinematography Viktor Schaider
Editing Alexandra Wedenig
Music Victor Gangl
Producers Stefan Wolner, Dietmar Zahn
---
Funded by
Land OÖ, Assista[:de]ein Stefan Wolner und Viktor Schaider Film
AT 2017 / Kino-Dokumentarfilm
80 Minuten
–
Nächstes Screening
ethnocineca, Wien, 2018
Sonntag, 06.05.2018, 14:30
VOTIV KINO
–
Synopsis
Martin Habacher kam mit der Glasknochenkrankheit zur Welt – doch seine körperliche Zerbrechlichkeit macht ihn letztendlich zu einer stärkeren Persönlichkeit, als man auf den ersten Blick erwarten würde. Auf vehemente und doch humorvolle Art und Weise tritt der kleinste YouTuber Österreichs heute für Toleranz ein und bricht Barrieren auf – im Alltag und in unseren Köpfen.
–
Festivals & Preise
1st PRICE – We Care Film Fest, 2018
AUSTRIAN DOCUMENTARY AWARD, 2018
PUBLIKUMSPREIS – this human world, 2017
BESTE REGIE – North Carolina Film Award, 2018
Bozen Filmfestival, 2018
We Care Film Fest, 2018
Sebastopol Filmfestival, 2018
Montreal World Filmfestival, 2017
Crossing Europe, 2017
Trujillo International Independent Film Festival, 2017
–
Credits
Regie, Buch: Stefan Wolner
Kamera: Viktor Schaider
Schnitt: Alexandra Wedenig
Musik: Victor Gangl
Produzenten: Stefan Wolner, Dietmar Zahn
–
Gefördert durch
Land OÖ, Assista
[:]