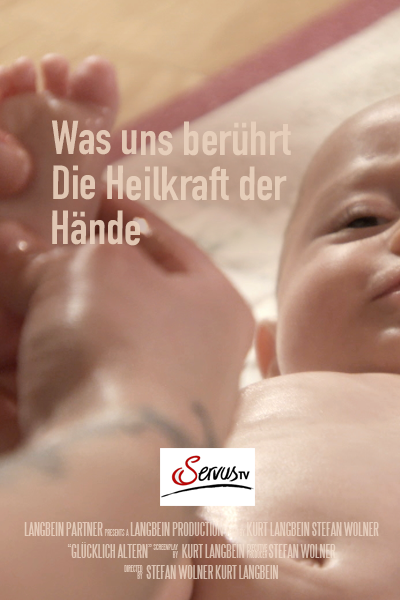 [:en] Healing Hands[:de]Was uns berührt – Die Heilkraft der Hände[:]
[:en]a Kurt Langbein & Stefan Wolner Film
TV Documentary | Austria | 2016
47 minutes
–
Synopsis
Ancient Greeks believed that Aesculap, god of medicine, would descend from Olympus to visit sick humans while they were asleep and cure them – by touching them with his healing hands. In modern times, however, the Western world had largely forgotten about the healing powers of hands-on healing.
But in recent years many doctors have rediscovered the therapeutic use of hands. Manual therapy, osteopathy and chiropractic have now become part of conventional medical practice and "Therapeutic Touch" is being used successfully in intensive care units in numerous hospitals.
The documentary shows the spectacular results of palm healing achieved by manual therapists such as Mohammed Khalifa, who heals cruciate ruptures. A team comprised of scientists from six different universities attempts to discover the secrets underlying the successful cure.
Science journalist Kurt Langbein visits reputable manual therapists and their patients. The results are impressive and may very well cast doubt upon some credos of conventional medicine.
–
Credits
Director: Stefan Wolner
DOP: Christian Roth, Gregor Centner, Valentin Platzgummer
Sound: Armin Koch, Martin Stiendl, Michael Hensel
Editor: Angela Freingruber
Assistant Editor: Eva Rammesmayer
Editorial Department: Elisabeth Tschachler, Stefan Wolner, Carolin Darschin (ServusTV)
Production Management: David Gaschler, Brigitte Ortner, Melanie Kaboto (ServusTV)
Sound Mixing: Soundfeiler
Producer: Kurt Langbein
A production by Langbein & Partner for ServusTV[:de]Ein Film von Kurt Langbein & Stefan Wolner
TV Dokumentation | Österreich | 2016
47 Minuten
–
Synopsis
"Behandeln" – wer denkt bei diesem Wort aus der medizinischen Praxis an dessen Wurzeln, die therapeutische Nutzung der Hände? Doch viele Ärztinnen und Ärzte haben die Mechanismen des Handauflegens wiederentdeckt. Manualtherapie, Osteopathie und Chiropraktik haben sich inzwischen auch im konventionellen Medizinbetrieb etabliert. Auch "Therapeutic Touch" wird inzwischen sogar in Intensivstationen mit Erfolg eingesetzt. Die Erfolge solcher Be-handlungen können spektakulär sein – wie beim Salzburger Manualtherapeuten Mohammed Khalifa, der Kreuzbandrisse heilt. Ein Forschungsteam aus sechs Universitäten versucht, das Geheimnis dieser Heilerfolge zu lüften.
Wissenschaftsjournalist Kurt Langbein besucht seriöse Manualtherapierende und begleitet Patienten und Patientinnen während der Behandlung. Die Ergebnisse sind spektakulär und können manche Credos der herkömmlichen Medizin in Frage stellen.
–
Credits
Regie: Stefan Wolner | Kamera: Christian Roth, Gregor Centner, Valentin Platzgummer | Ton: Armin Koch, Martin Stiendl, Michael Hensel | Schnitt: Angela Freingruber | Schnittassistenz: Eva Rammesmayer | Redaktion: Elisabeth Tschachler, Stefan Wolner, Carolin Darschin (ServusTV) | Produktionsleitung: David Gaschler, Brigitte Ortner, Melanie Kaboto (ServusTV) | Tonmischung: Soundfeiler | Produzent: Kurt Langbein[:]